[ad_1]
Kangaroo-style interrogation of child victims and witnesses of crimes and disclosure of their evidence in public media exposes them to prejudice and rejection from their own families
---
"Injustice everywhere is a threat to justice everywhere"
– Dr Martin Luther King –
---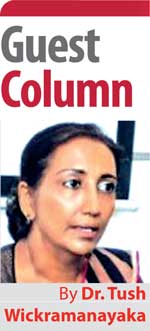 Thirty years after ratifying the United Nations Convention on the Rights of the Child (UNRC) in 1991, child protection is a national crisis in Sri Lanka. In the past 16 months, 10 children have been physically and sexually abused and murdered, but not a single person of authority has hesitated to protect the true beneficiaries of the future, our children.
Sri Lanka's rapidly deteriorating international reputation at the height of gross human rights violations and utter disregard for structural collapse of integrity by public officials is a painful observation of our paradise island dragged into hell that we can no longer tolerate quietly.
Disclaimer
"Who is the safe adult?" Was the last question raised during a recent panel discussion on "child abuse during the pandemic". In response, I clarified that although parents / primary caregivers are considered the primary guardians of a child, the state / judiciary is the ultimate guardian. If a child is abused by people he trusts, public institutions responsible for child protection should be places to which a child at risk can freely access.
However, due to escalating incidents of misconduct, victims often refuse to report to the police or the National Child Protection Authority (NCPA) as "unnecessary." It is essential that these institutions act responsibly to clean up their act in order to provide a responsible and trustworthy service that does not tolerate any form of professional misconduct.
The Chief Superintendent of Police (SSP), director of the Police Bureau for the Prevention of Abuse of Children and Women, Darshika Ranasinghe answered unfathomably that "there are 85,000 police officers and these are rare incidents; we must not focus on exceptional circumstances, "was a hint of acknowledgment and total rejection of responsibility. SSP Ranasinghe missed the perfect opportunity for a newly ranked police officer to demonstrate empathy and visionary professional leadership to not only regain the nation's trust but also score points with the international community. Instead, she predictably joined her male counterparts in the macho pseudo-heroism of an institution that miserably fails to maintain law and order.
Dementia misconduct
Varuni Bogahawatte, an award-winning 'superwoman' police officer, was convicted of child abuse by the Supreme Court of Sri Lanka in June 2019 for forcing a 15-year-old girl to undergo repeated medical examinations to establish whether she had been sexually assaulted.
The complaint begins when the young girl was questioned at her home by Bogahawatte in front of strangers violating the privacy and confidentiality of a minor. With the landmark verdict declared, the Court also takes the opportunity to note with concern the growing number of incidents of abuse of power by law enforcement authorities. 17-point guidelines were recommended to ensure and advance the rights of the public recognized by the Constitution and by law. (See the verdict here: (https://stopchildcruelty.com/media/doc/1591786686.pdf).
However, the Sri Lankan police continue to ignore this verdict by mocking the justice system. The latest trend for law enforcement officers is to perform their duties with the help of private media channels. The kangaroo-style interrogation of child victims and witnesses of crime and the disclosure of their evidence in the public media exposes them to prejudice and rejection from their own families. They are forced to modify or withdraw their evidence, resulting in the failure of the case after many years.
Unethical headlines expose these helpless children and their siblings to public humiliation and decades of mental trauma, making it impossible to reintegrate them into society unharmed. Both the police and the media are guilty of being secondary aggressors, a direct violation of Article 365 (c) of the Penal Code, which prohibits the identification of victims of sexual abuse / rape.
During the lockdown in 2020, we witnessed shocking images of police assaulting a 14-year-old boy with autism in broad daylight in the town of Dharga. He has now filed a fundamental rights petition with the Supreme Court.
Police reports on a high-profile case earlier in 2021 confirmed that 41 suspects had been arrested in connection with the sex trafficking of the 15-year-old, including a deputy police inspector.
Over the past six months, there have been numerous suspected incidents of sexually assaulted women and children inside police stations with several officers arrested but released on bail within days. Recently, we learned more frightening news that police in Matara, the same division as Bogahawatte now back on duty, forcibly performed a pregnancy test on a 15-year-old girl. An investigation is underway.
Ironically, the newly appointed Acting Deputy Police Inspector General Renuka Jayasundera, while confirming the incident, swears that there was no misconduct on the part of the officers even before the final report was presented. of the investigation ; we can guess the conclusion there then!
By my simple calculations, this is one too many complaints in 85,000 for child abuse rejected by the SSP Ranasinghe. "None" of these cases have been concluded with transparent mechanisms to rejuvenate public confidence.
Delay of justice
Headlines from June 2021 read: "Sri Lanka: 2,055 child abuse cases, including 1,953 rape cases in 2020; The police fail to obtain a single conviction ". With more than 20,000 child abuse cases pending in the last decade at the attorney general's department and "zero" rape convictions in the past five years, it attracts very little public confidence in it. law enforcement agencies. In fact, police found no evidence for five days as the 15-year-old who suffered burns at a politician's house fought for her life. She then succumbed to injuries, becoming a mere statistical number of 1 of 10 children murdered in the past 16 months. The National Child Protection Authority (NCPA), established by Parliamentary Act No. 50 of 1998, the most powerful institution to protect children with jurisdiction to take charge of any investigation mismanaged by the police, has forwarded a letter to the OIC of the relevant police station. ask for an explanation. The crime of bureaucratic handicap is crippling the last vestiges of a fragment of justice.
Disclaimer
Scottish Police, which had been providing training to the Sri Lankan Police since 2010, suspended their program amid serious human rights violations by law enforcement in 2021. Training focused on improvement community policing, in particular on sexual abuse and gender-based violence and on increasing the representation of women in the Police Service. Police Chief Iain Livingstone told the Scottish Police Authority: "We remain committed to supporting the international development of police services across the world so that we can improve and enable human rights and we can emphasize the values ​​we hold dear in Police Scotland of integrity. , fairness and respect.
SSP Ranasinghe and DIG Jayasundera seem to have forgotten that their promotions were due to equal opportunities training that the Scottish police approved and only after the training was suspended, as a last-ditch attempt by the Sri Lankan police to save the face.
Sri Lankan police officers must accept that responsibility and accountability mixed with humility and integrity is the only partnership required to establish "One Country, One Law". We unreservedly demand equality, justice and hope for the true beneficiaries of our future, our children!
---
(The author is the founding president of Stop Child Cruelty Trust and Global End Violence Champion. She can be contacted by email at [email protected])
---
[ad_2]